Custom Roll-formed Shapes and Products FAQs
Service Detail from MP Metal Products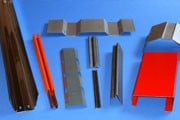 Q. How much volume is necessary?
A. If tools to make the profile already exist, then the typical minimum to economically purchase coil is in the vicinity of 5,000 lineal feet. If the profile is new, or requires tooling, the economic threshold is often in the vicinity of 30,000 to 50,000 lineal feet to help justify the investment in custom roll form tooling.
---
Q. What materials can be roll formed?
A. Most metals that are available in coil, sheet or strip can be roll formed. We commonly roll form shapes in aluminum, steel (cold rolled, hot-rolled and galvanized), stainless and copper, to mention a few. Some parts are also made from pre-coated material.
---
Q. How do we obtain prototypes?
A. Samples are usually available when the tooling is tried out. This confirms the shape and dimensions. Prior to that, prototyping of new profiles is usually not economical.
---
Q. How tight can tolerances be held?
A. Generally, roll forming will produce shapes with tolerances tighter than press breaking. Please refer to the design guide or contact us for more details.
---
Q. How may parts be packaged?
A. Several options are possible, from cardboard boxes, to skids, to overhead crane bundles. Contact us with specific weight and handling requirements.
---
Q. How wide can you roll form parts?
A. We roll form shapes from coil as wide as 48" and as narrow as 1/2".
---

Q. How heavy a gage can you roll form?
A. We roll from coil as thick as .165" and as thin as .005", in a variety of hardness.
---
Q. Can holes, notches, miters and markings be included?
A. Quite often these items can be incorporated into the roll form process to avoid secondary operations.
---
Q. Are stock or standard parts available?
A. They may be available, however, most of the items are custom made. Parts are made to order; nothing is stocked. Please contact us for items of interest.
M. P. Metal Products specializes in custom roll forming. We have been a manufacturer of custom roll formed shapes since 1965. We roll form ferrous and non-ferrous metals into a variety of shapes, moldings, channels, panels, angles, trim, frames, lock seamed profiles and accessories. Design assistance is available to provide economical solutions and alternatives.
Value Added Services M. P. Metal Products also offers value added services, which include stamping, press braking, slitting, inline piercing and punching.
Markets We Serve We have 35 roll formers serving automotive, agricultural, transportation, construction, material handling, storage, medical, furniture, electrical, recreation, and other markets.
Materials, Gages, Finishes and Shapes M. P. Metal Products has experience forming a variety of metals, including stainless steel, galvanized steel, aluminized steel, aluminum, copper and pre-painted coils. Gages range from .005" to .165", and widths from 1/2" to 48" in various alloys, tempers, and finishes, in simple or complex shapes.
M. P. Metal Products Achieves ISO 9001 : 2015 Certification
M. P. Metal Products is excited to announce its certification renewal from ISO 9001:2008 to ISO 9001:2015. As a part of the ISO certification process, M. P. Metal Products engaged in a rigorous audit of its business and manufacturing processes, as well as product quality requirements. These standards improve the experience of working with M. P. Metal Products for our customers and throughout our organization with a specific effect impact on Sales, Accounting, Maintenance, Purchasing, Outsourcing, Shipping, Receiving, Production, Resource Management, Quality Management Systems and Measurement Analysis Improvement.
Additionally, as a part of the ISO certification requirements, M. P. Metal Products maintains an ISO compliant Quality Management System ensuring our customers satisfaction and strengthened performance through constant process improvement.
M. P. Metal Products is proud to offer this tremendous value to our customers as we continue to thrive in our 50+ years of business. If you have roll forming needs, you need to speak with M. P. Metal Products. We look forward to hearing from you soon.
---