MP Metals receives Gallis Award
Featured Product from MP Metal Products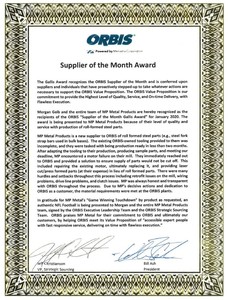 MP Metals receive the ORBIS "Supplier of the Month Gallis Award" for January 2020
The Gallis Award recognizes the ORBIS Supplier of the Month and is conferred upon suppliers and individuals that have proactively stepped-up to take whatever actions are necessary to support the ORBIS Value Proposition. The ORBIS Value Proposition is our commitment to provide the Highest Level of Quality, Service, and On-time Delivery, with Flawless Execution.
Morgan Geib and the entire team of MP Metal Products are hereby recognized as the recipients of the ORBIS "Supplier of the Month Gallis Award" for January 2020. The award is being presented to MP Metal Products because of their level of quality and service with production of roll-formed steel parts.
MP Metal Products is a new supplier to ORBIS of roll-formed steel parts (e.g., steel fork strap bars used in bulk bases). The existing ORBIS-owned tooling provided to them was incomplete, and they were tasked with being production ready in less than two months. After adapting the tooling to their production, producing sample parts, and meeting our deadline, MP encountered a motor failure on their mill. They immediately reached out to ORBIS and provided a solution to ensure supply of parts would not be cut off. This included repairing the existing motor, ultimately replacing it, and providing laser cut/press formed parts (at their expense) in lieu of roll formed parts. There were many hurdles and setbacks throughout this process including retrofit issues on the mill, wiring problems, drive line problems, and clutch issues. MP was always honest and transparent with ORBIS throughout the process. Due to MP's decisive actions and dedication to ORBIS as a customer, the material requirements were met at the ORBIS plants.
In gratitude for MP Metal's "Game Winning Touchdown" by product as requested, an authentic NFL Football is being presented to Morgan and the entire ORBIS Strategic Sourcing Team. ORBIS praises MP Metals for their commitment to ORBIS and ultimately our customers, by helping ORBIS meet its Value Proposition of "accessible expert people with fast responsive service, delivering on time with flawless execution."
MP Metal Products
Roll forming metal shapes is just one of our capabilities! From your idea, we can design, manufacture, finish, package, palletize, and ship your custom parts, on time and on budget.
With more than 35 roll formers and related metal forming equipment, MP Metal Products has the capability to roll form a wide range of profiles. We process metal strip, coil and sheet in gage thickness from 0.005" up to 0.165", and widths up to 48" depending on the shape. MP Metal Products specializes in private-label manufacturing typically for OEM accounts expecting quality parts delivered on time.
Roll Forming
Stamping
Embossing
Press Braking
Welding – TIG & MIG
Slitting
Bending
Perforating
Pre-punching
Post-punching
Cover Printing
Cladding
Inkjet Labeling
In line operations
Secondary operations
Assembly
Packaging
MP Metal Products has been dedicated to Roll Forming metal shapes since 1965
Why Roll Form?
What exactly is Roll Forming? Find out the basics...watch this short instructional video produced by Dalarna University >>>HERE.
Roll forming is a continuous metal forming process that transforms sheet, strip or coiled metal into shapes with a consistent cross section. The stock is fed through successive pairs of rolls, which progressively shape the metal until the desired cross section is produced. Only progressive forming (bending) takes place; the metal thickness is not changed except for a slight thinning at the bend radii.
What are the benefits of Roll Forming?
An efficient and economical metal working process to form sheet or coil stock.
Roll forming is a cold forming process.
Slots, holes, miters and embossing can sometimes be included to eliminate costly, extra, secondary operations.
Consistent shapes and uniform cross sections.
Finished parts may be produced in one operation.
Economical unit costs for production lots around 5,000 lineal feet or more.
Combine 2 materials in a single process, i.e. incorporate vinyl weather stripping into metal carrier.
An ideal process for adding caulking beads, adjusting symmetrical widths, combining shapes, and so on.
Why Custom Roll Forming?
Enjoy technical proficiency in tooling/product design,packaging, and production.
Have no investment in capital equipment.
Gain the flexibility and versatility of numerous lines.
Avoid the need to purchase and inventory raw materials.
Have access to a wide range of related equipment and processing capabilities.
Save overhead costs and plant space.
Avoid costly equipment downtime between jobs.
Eliminate the need to locate, hire, train and retain qualified personnel.
M. P. Metal Products specializes in custom roll forming. We have been a manufacturer of custom roll formed shapes since 1965. We roll form ferrous and non-ferrous metals into a variety of shapes, moldings, channels, panels, angles, trim, frames, lock seamed profiles and accessories. Design assistance is available to provide economical solutions and alternatives.
Value Added Services M. P. Metal Products also offers value added services, which include stamping, press braking, slitting, inline piercing and punching.
Markets We Serve We have 35 roll formers serving automotive, agricultural, transportation, construction, material handling, storage, medical, furniture, electrical, recreation, and other markets.
Materials, Gages, Finishes and Shapes M. P. Metal Products has experience forming a variety of metals, including stainless steel, galvanized steel, aluminized steel, aluminum, copper and pre-painted coils. Gages range from .005" to .165", and widths from 1/2" to 48" in various alloys, tempers, and finishes, in simple or complex shapes.
M. P. Metal Products Achieves ISO 9001 : 2015 Certification
M. P. Metal Products is excited to announce its certification renewal from ISO 9001:2008 to ISO 9001:2015. As a part of the ISO certification process, M. P. Metal Products engaged in a rigorous audit of its business and manufacturing processes, as well as product quality requirements. These standards improve the experience of working with M. P. Metal Products for our customers and throughout our organization with a specific effect impact on Sales, Accounting, Maintenance, Purchasing, Outsourcing, Shipping, Receiving, Production, Resource Management, Quality Management Systems and Measurement Analysis Improvement.
Additionally, as a part of the ISO certification requirements, M. P. Metal Products maintains an ISO compliant Quality Management System ensuring our customers satisfaction and strengthened performance through constant process improvement.
M. P. Metal Products is proud to offer this tremendous value to our customers as we continue to thrive in our 50+ years of business. If you have roll forming needs, you need to speak with M. P. Metal Products. We look forward to hearing from you soon.