Chillgard 5000 Refrigerant Leak Monitor
Featured Product from MSA Safety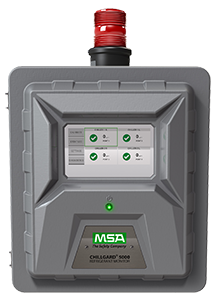 The MSA Chillgard 5000 Refrigerant Monitor can detect refrigerant leaks at the earliest level of 1 part per million for optimal safety in mechanical equipment rooms. It helps keep people safe and facilities in compliance with ASHRAE Standard 15. In the event of a leak, the Chillgard 5000 provides a clear visual and audible signal to alert of costly and environmentally-harmful refrigerant gas.
The Chillgard 5000 offers an intuitive user interface that is easy to navigate and sends real-time status indicators through BACnet, Modbus or 4-20 mA analog. A seven-inch color touchscreen provides a clear visual indication when an alarm, fault or event occurs. An event log and diagnostic log makes it easy to troubleshoot.
Calibration is accomplished with just the touch of a button using a designated calibration port. The Chillgard 5000's advanced diagnostics notifies users when it's time to service the sensor, pump, and flow systems. Modules can easily be replaced in the field within minutes.
When it comes to safety, you can't afford to compromise. The new Chillgard 5000 refrigerant monitor is always looking ahead to provide reliable, durable, and easy to manage leak detection.