Senscient ELDS FM Approved Open Path Gas Detector
Featured Product from MSA Safety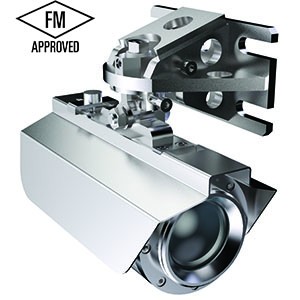 The new Senscient ELDS™ methane open path gas detector has obtained Factory Mutual (FM) approval for use in hazardous areas including the stringent FM open path, combustible gas performance approval (FM 6325). It meets the demanding requirements of the oil and gas industry whether that be on or offshore including gas distribution facilities.
A 0-1 LFL.m measuring range offers faster speed of response and initiation of executive actions than any other open path, flammable gas detector that operates at the industry standard measuring range of 0-5 LFL.m. Its patented technology eliminates false alarms and enables faster, more reliable detection of methane gas, thereby improving worksite safety while reducing operational costs.
The Senscient ELDS gas detector uses a tuneable laser to produce a unique Harmonic Fingerprint™ specific to methane, making it immune to cross-interferent gases that cause false alarms. The Senscient ELDS FM-approved methane device is gas-specific and operates at a wavelength less prone to water vapor interference, giving greater reliability and performance in challenging environments, such as fog, rain and snow. SimuGas™automated integrity checks eliminate the need for gas checks. The system does not require consumable sensing elements or calibrations, significantly reducing operation costs for time and materials spent on maintenance.
Open path gas detectors are used to monitor for fugitive emissions, protect personnel and warn of plant failures. These devices are typically located to provide a detection barrier around the perimeter of a plant, process or storage area; or positioned in close proximity to specific items of plant, that pose a real risk of gas escape: e.g. pump sets, pressure reducers, valves and pipe flanges.
MSA Safety Inc. acquired Senscient, Inc. in September 2016. The patented Senscient ELDS open path gas detector strengthens MSA's leading position in the global market for fixed gas and flame detection (FGFD) systems.