Powerhouse Winch: Ideal In Plant or Field Use
Featured Product from MY-TE Products, Inc.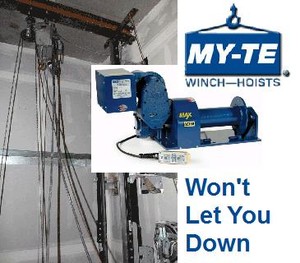 Handling 3,000 lbs Single or 6,000 lbs Double Line, the Max Electric Winch-Hoist is ideal for heavy duty lifting in plant or field, for installation/repair of elevator equipment and moving heavy apparatus. The integral brake motor provides optimum lift control and safety.
AC36B MAX Electric Winch-Hoist 3,000-lb single-line or 6,000-lb double-line lift
APPLICATIONS Ideal for in-plant or field use, the AC36B Max Electric Winch Hoist is your heavy-duty powerhouse, built to move equipment or materials, lift motors and heavy apparatuses, and serve the likes of elevator installations and repair crews.
FEATURES
*115V brake motor
*Worm gear reduction
*Dynamic braking for instant stopping
*Compact, heavy-duty construction
*Low voltage 10' pendant control
*Cable tensioner for better cable tracking
POWER SOURCE OPTIONS
115V AC - Standard
230V AC Single Phase - Available. See Options
12V DC - Available as Model # DC48
FACTORY-INSTALLED OPTIONS
230V Single Phase Motor (771130)
Limit Switches (771091)
Upside Down Mount (771113)
Variable Speed (771310, 771320)
Freewheeling Clutch (771010)
Divided Drum (771150)
Cable Guide (771220)