ALPHA® HiTech Heat Curable Cornerfill Epoxy
Featured Product from MacDermid Alpha Electronics Solutions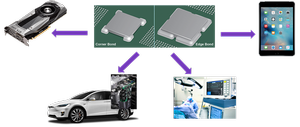 ALPHA HiTech CF31-4010 is a one component, high filler content, heat curable cornerfill designed to be dispensed on the corners (corner bonding) or edges (edge bonding) of BGA devices.
Upon completion of the curing process, the cured cornerfill helps to strengthen the soldered assembled component allowing it to pass reliability tests such as Drop Shock, Impact Bend and Thermal Cycle Test (TCT). All ALPHA HiTech Products are Halogen-Free.
Learn more about key features and product data.