Pneumatic Conveying Solutions for Food Quality
Featured Product from Macawber Group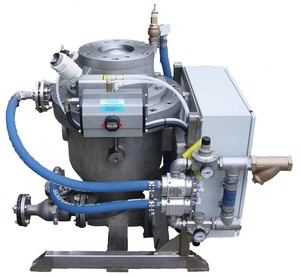 Macawber Engineering, Inc. has installed tens of thousands of pneumatic conveying systems worldwide. We have over 35 years experience designing these systems for wide variety of bulk materials. We specialize in the design and engineering of low-velocity, dense-phase pneumatic conveying systems. We understand how to handle materials that are fragile, abrasive, moist, lumpy or hot; and many more that cannot be handled efficiently by dilute-phase systems or cleanly by mechanical type systems.
Denseveyor
The Denseveyor is a low-velocity, dense-phase pneumatic conveying transporter. It can easily convey tens of thousands of different materials using compressed air and a Dome Valve. Dust-less, fully enclosed conveying system that is economical and environmentally sustainable. Fully automatic operation on a as-needed basis; machine rests when not signaled to operate. Advanced conveying air controls for difficult to handle materials.
Key Features:
Low-velocity, dense-phase pneumatic conveying system that uses the least air for conveying. Air consumption is the chief measurement for energy consumption.
Dust-less, enclosed operation keeps the environment clean. No more dust spillage.
Low material velocity (compared to dilute phase), means far less wear and lower maintenance requirements.
Controls are integrated and automated; the machine only operates when signaled. Remains at rest when not in use.
Material-to-air ratio is higher than with dilute phase. This is another indication of efficiency.
Proven design and technology, first developed in 1974.
Watch this demo video to learn more:
https://www.youtube.com/watch?feature=player_embedded&v=rXUXmokGt34
Contact us for more details and a quote.