Conway 858-14 Stationaire Replacement
Product Announcement from Mach III Clutch, Inc.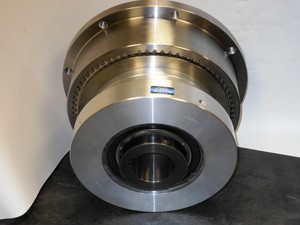 Mach III Clutch was contacted by a distributor seeking a replacement for a Conway 858-14 Stationaire Clutch Mechanism sought by a paper mill. After reviewing the application along with photographs and drawings provided by the customer, Mach III designed the MBR3K-001. An eleven inch friction diameter clutch with a 2.9375 Inch bore, the MBR3K-001 assembly includes both the clutch mechanism and a custom adapter flange. The design is a variation of Mach III's catalog model Heavy Duty Clutch Mechanism. It is air actuated and spring released. Mach III frequently adapts catalog models to match the specifications and mounting requirements of the application. Lead times for such customization are typically only a week longer than for catalog products.
Mach III has assisted a number of customers seeking items no longer available from Conway Clutch and other manufacturers. While it is helpful to know the model number of the current unit, it is more important to understand how the clutch is mounted and the function it is required to perform. Digital photos or a sketch of the clutch and how it relates to the existing drive train are particularly useful. For assistance replacing an existing clutch or with any retrofit application, contact Mach III.
---