Portable Air Operated Grease Pumps
Featured Product from Macnaught USA, Inc.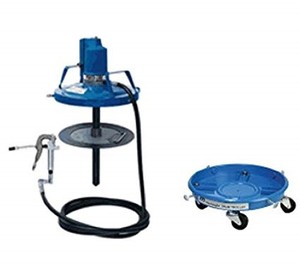 Premium quality 50:1 air operated greasing system that is excellent for high volume grease users that have many applications and require continuous high pressure greasing. This portable grease dispensing system is suitable for 20kg/44Lb pails and is equipped with a low air consumption motor that doesn't need to be lubricated due to the use of modern polymer materials. Users will save on power and the oily miss and mess associated with air operated equipment is gone. Suitable for underground coal mine applications.
Heavy Duty Grease Pumps designed for Industrial applications.
10 year Warranty on all Macnaught Fluid Handling Products
50:1 Air Ratio Motor

10,000 PSI at Booster Gun

16 oz per minute delivery

P3TR 35 LB System includes Pump, Follower plate, hose, booster gun & trolley

P6TR 120LB System includes Pump, Follower plate, hose, booster gun & trolley

P8-11 400 LB System includes Pump, Follower plate, hose with booster gun. Trolley available

In stock, available for immediate shipment. Email info@macnaughtusa.com
Visit www.macnaughtusa.com
Call (813) 628-5506