Piezo Nanopositioning Mirror Tip/Tilt Actuator
Featured Product from Mad City Labs, Inc.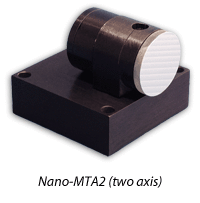 Internal position sensors utilizing proprietary PicoQ® technology provide absolute, repeatable position measurement under closed loop control. The Nano-MTA Series is compatible with either the Nano-Drive® or Nano-Drive®85 controllers. Both controllers include sensor electronics, proportional integral feedback control, and 150V amplifiers. When used with the high power Nano-Drive®85 controller, the Nano-MTA Series is capable of continuous, high speed scans at 400 Hz and step response times down to 2 milliseconds.
Features
400 Hz high speed scans
One or two axis motion
2 mrad , 5 mrad, or 10mrad ranges of motion
Mount in any orientation
Closed loop control
High stability
Typical Applications
High speed laser beam steering
Optical trapping
Interferometry
FBG writing
Optical disk manufacturing
Astronomy
Active optics