Three axis Piezo Nanopositioner
Featured Product from Mad City Labs, Inc.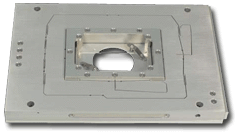 The Nano-LPS Series are ultra-low profile, three axis piezo nanopositioning systems with 100, 200, and 300 micron ranges of motion in all three axes. The low height of the Nano-LPS Series allows it to be easily integrated into existing inverted optical microscopes. Like the related Nano-LP Series, the Nano-LPS Series is ideal for demanding microscopy applications which require long range travel, fast scan rates, and three axes of motion. Uniquely suited for biological samples, the Nano-LPS has a large center aperture which is large enough to hold full size 3 inch (75mm) standard slides. Precise and repeatable motion is made possible through closed loop control combined with PicoQ® position sensors. See the Nano-BioS Series for a low profile, 2-axis piezo nanopositioning system.
Range of motion (Nano-LPS100) - 100 x 100 x 100 μm
Range of motion (Nano-LPS200) - 200 x 200 x 200 μm
Range of motion (Nano-LPS300) - 300 x 300 x 300 μm