Continuous Level Indicators
Product Announcement from Madison Company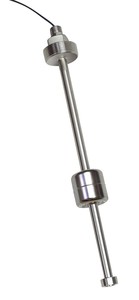 Madison Company offers a full line of standard models of continuous liquid level indicators with sensing ranges up to 96". Below you will find a representative list of these standard models.
Our engineering staff can also provide custom designs that are application specific to meet material compatibility, length, resolution and mounting requirements. Use our C Series Specification Sheet to define your requirements.
Our resolution options of 5mm, 10mm and 1" combine the accuracy and reliability of reed switch technology with a level indication interface that can match your need for continuous level monitoring at an affordable price.
Our 1" resolution model (C3975-XXXX) is offered with a field-repairable sensor strip. This allows for permanent mounting of the level switch assembly while permitting in-field replacement of the flexible sensor strip via a simple screw-in assembly. This is desirable where limited overhead space or permanent tank closure are a consideration. This is offered with a standard linear output or application specific output.
• Continuous level indication
• Controllers available
• Various material choices
• Various lengths
• Various mounting configurations
---