Stainless Steel Liquid Level Switches
Product Announcement from Madison Company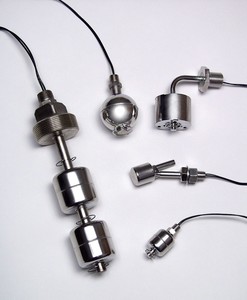 Madison Company offers many of its liquid level switch products with high-temperature capabilities. In addition, engineered designs to meet specific application needs may be provided. Such designs deal with harsh environments such as high temperature and pressure and ensure material compatibility.
Using highly reliable magnetic float switch technology, units capable of reliable operation at temperatures as high as 300°C (572°F) and pressures of up to 1500 PSI (103 BAR) have been designed. Such harsh-environment switches can incorporate Madison's temperature sensors, offering the combination of both point level indication and temperature measurement within the same level switch design. This can eliminate costs for multiple mountings during assembly, while providing dual-condition monitoring. Level indication can be single point, multi-point or continuous level, in one of three standard resolutions.
Lead wires with overbraiding or shielding and various terminations can be designed for extreme conditions, as well as easy interfacing to condition monitoring devices.
Features:
•Magnetic reed switch technology
•High reliability under harsh conditions
•Can incorporate both point level indication and temperature measurement
•Available in single-point and multi-point designs
•Continuous level in standard resolutions of 1", 5mm or 10mm
---