Geartooth Speed Sensors
Product Announcement from Magnetic Sensors Corporation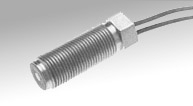 Often referred to as Gear Tooth Sensors because they record the movement of ferrous targets, typically gear teeth, passing through a magnetic field. Magnetic Sensors Corporation offers four basic types of gear tooth sensors:
Analog Variable Reluctance (VR) Speed Sensors - Passive Sensors. Require no outside power source. Respond to collapse of magnetic field caused be interruption by ferrous gear teeth. VR sensors have the capacity to measure very high speeds, high reliability, long life, and economy. Can be configured for use in very high temperatures.
Digital Variable Reluctance (DVR) Speed Sensors - Active Sensors. On-board electronics condition sine wave output to produce a digital, square wave signal.
Hall Effect Speed (HE)Sensors - Active Sensors. Zero speed, non-contact sensors measure magnetic field distortion, providing precise measurements of movement as slow as zero IPS.
Quadrature Speed & Direction Sensors - Active Sensors. Hall effect sensors with separate output to measure rotation or linear surface speed and direction.
MSC Speed Sensors are available in all standard configurations, sizes from .150 barrel-type to 3/4". Metric from 12mm to 22mm.
---