HMA Current Transformer Cores
Featured Product from Magnetic Shield Corporation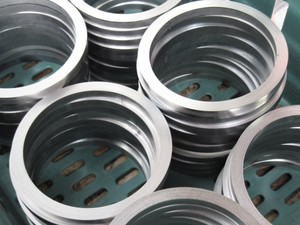 Magnetic Shield Corporation supplies custom tape-wound MuMETAL® Toroidal Cores to industries requiring High Metering Accuracy (HMA) current transformer cores. By using our proprietary brand of MuMETAL® and properly heat treating in a controlled hydrogen atmosphere furnace, (to a soft magnetic anneal) we maintain close control of the magnetic properties over a broad range of flux densities which permits the most economical and efficient design of your transformer.
We offer a range of custom wound cores from minimum 1" [25mm] inside diameter to maximum 47.25" [1200mm] outside diameter, using MuMETAL® foil thicknesses ranging between 0.004" [0,1mm] and 0.014" [0,36mm]. Core height is available from .200" to 2" [5-50mm].
Note - Specs: Ask our engineering department for exacting specifications of our high permeability (µ) 80% nickel-iron MuMETAL® Cores. Our technical expertise and drawing review input can help expedite your design process.