CRYO-NETIC® SHEET
Featured Product from Magnetic Shield Corporation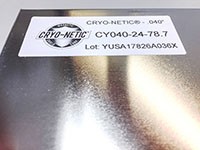 NEW:

CRYO-NETIC® is our proprietary nickel-iron soft magnetic alloy that is ideal for shielding unwanted magnetic fields at extremely low temperatures, typically 77 Kelvin (liquid nitrogen) and 4 Kelvin (liquid helium). Many high energy physics research applications are conducted under cryogenic temperatures, but still require shielding. The permeability of our MuMETAL® and Co-NETIC® alloys begin to decline at -40 degrees, which is why we offer our CRYO-NETIC® magnetic shielding alloy for increasing permeability with decreasing temperature. These Stress Annealed Sheets are of soft temper for ease of fabricating shields such as enclosures, cylinders, cans, channels or 3D boxes. Please contact our technical sales team for your custom shielding quote.
Final heat treatment in a atmospherically controlled furnace is required as a final process after stamping, machining, bending, rolling or welding to provide maximum shielding properties. Our proprietary heat treatment process for optimum shielding performance requires over 30 hours in the furnace at high temperatures and then cooled at a specific rate. For more information contact our technical sales team.
Stress Annealed Sheet is stocked in gauges 0.040" and 0.059" thickness [1,0mm to 1,50mm].
NOTE: Priced per sheet. Volume discounts available.
Shearing: Stock sheet sizes can be sheared to your custom dimension specifications by indicating length & width.
What effect does cryogenically cooling the magnetic material have on its magnetic shielding properties?