Custom Anechoic Chambers
Featured Product from Magnetic Shield Corporation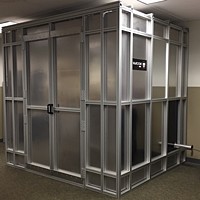 We manufacture and install on-site state-of-the-art Modular MuROOMS® and Custom MuROOMS® based upon each customer's unique application or requirements to create a low field environment. One of our specialty high permeability and high attenuation alloy materials may be specified and employed for construction; either MuMETAL® Sheet with Perfection Annealing applied or our stock Co-NETIC® AA Perfection Annealed Sheet.
After taking measurements of electromagnetic field (EMF) radiation generated by external sources and establishing the main source(s) of unwanted electromagnetic fields in the designated space, we will provide an efficient solution to mitigate the electro-magnetic interference that is occurring. Our Technical staff will recommend the material selection type, and required dimensions of the sheet metal to achieve the highest shielding performance for your critical application.
Sometimes an application may require shielding across a larger frequency range than MuMETAL can effectively shield. MuROOMS can be created for both magnetic and RF shielding by layering high permeability material with electrically conductive materials in order to meet such requirements. For optimum shielding performance we may recommend using multiple wall layers and will discuss the need for electrical access ports within the room. We can also source field-free lighting for use within the room.