Custom Metal Tubing / Pipe
Featured Product from Magnetic Shield Corporation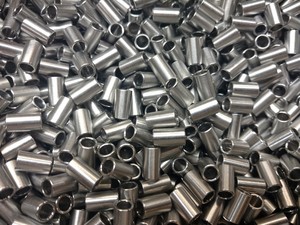 CNC Machine MuMETAL® Tubing or Pipe, can be fabricated from our stock MuMETAL® Round Bar diameters producing hundreds to thousands of precision tubular components. Or custom size tubing is manufactured to spec with your design drawing. MuMETAL® Tubing enclosures are typically specified for electrical and electronic technical applications requiring a soft magnetic shielding alloy with a high permeability property to reduce low field disturbances.
CNC or computer controlled machines run automated processes that are highly precise and result in quality manufactured parts, components, or products. Tube bending, cutting, flaring, swaging, and shaping are some processes that may be selected in the design and production of MuMETAL® Tubes. Rapid production runs, high volume parts, close tolerance, and cost efficiency are realized benefits of CNC technology. Our MuMETAL® Round Bar is stocked in diameters from 0.250" to 8.17" [6,35mm to 207,5mm]. Ask about our precise prototyping capability, and low to high volume production capacity.
Atmospherically controlled Perfection Annealing is required after machining, forming, forging, or welding to provide maximum shielding performance.