Magnetic Barrier Flexible Braided Conduit
Featured Product from Magnetic Shield Corporation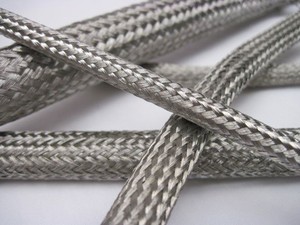 As of 2015, AA CABLE SHIELD® attained our registered trademark. AA CABLE SHIELD® is produced from Co-NETIC® AA alloy high permeability corrosion resistant 36AWG Wire and formed into a flexible braided weave sleeving, which is available in tubular continuous lengths. Our AA CABLE SHIELD® unique design with a continuously enclosed shielding barrier has distinct advantages over foil wrapping or rigid channeling. Braid is tightly weaved so shield coverage is 90% at nominal linear state. Specify cable shield to avoid pickup of unwanted external H-fields (D.C. to 100 kHz), or to mitigate radiation from cable and conductors. Specialty alloy Co-NETIC® AA is used in all applications where low intensity fields occur and high attenuation is desired (high initial permeability & high shielding efficiency). Sample: AA CABLE SHIELD® sample is included in our Lab Kits.
Co-NETIC® AA wire in .005" diameter (36AWG) is widely used in fabrication of magnetic shielding braid to certain customer specifications where our stock AA CABLE SHIELD® may not be specified.
Meets Specifications: Complies with A-A-59569 (QQ-B-575). Co-NETIC® Wire meets military specification MIL-N-14411, Comp 1.
Experimentation and Prototyping
Experimentation, testing, and prototyping typically begins with our "hands-on" Evaluation Kits. Our kits include several sizes and thicknesses of material to create usable shields. LEARN MORE

Aerospace
Transportation - high-speed rail, automobiles, aircraft, aviation
Government - military, defense
Drones
Robotics
Clean energy - wind turbines
High tech
Computers
Communications - hand-held devices
Medical equipment / devices
OEM / design
Universities
R & D labs
Labs - government / university / private
Science / physics labs
Industrial Machinery