Magnetic Shielding Sheet, Foil, Cans and Bar Stock
Featured Product from Magnetic Shield Corporation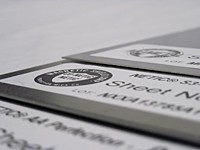 Available as Stress Annealed Sheet or partially annealed for ease of machinability. Sheet stock is used for fabricated shields such as enclosures, cylinders, cans, channels or 3D boxes. Typically, atmospherically controlled annealing is required after stamping, machining, bending, rolling or welding to provide maximum shielding performance. MuMETAL® is available in many forms, but most shields are fabricated from our MuMETAL® Sheet and Foil. Our stock MuMETAL® Foil is Perfection Annealed and does not require re-annealing unless severe forming or heliarc welding is performed.
Also Available:
Co-NETIC® Alloy
Co-NETIC® Sheet and Foil Stock forms are application ready for immediate use. Co-NETIC® AA Perfection Annealed Sheets are used for flat shields such as covers, doors, walls and simple two-dimensional shapes. Considered far superior to other alloys because of our Perfection Annealing process, it is used where maximum attenuation is desired. Co-NETIC® is fully annealed to exacting specifications in a quality controlled environment which builds grain structure, an important mechanical property for ultimate shielding performance.
NETIC® Alloy
NETIC® provides high magnetic saturation characteristics with absorbtion of stronger or high intensity electro-magnetic fields. In complex fields, NETIC® Sheet and Foil is commonly used in combination (in layers) with Co-NETIC® or MuMETAL®. The NETIC® layer is placed closest to the source of interference. Used for either fabricated or flat shields, it may be re-annealed for better performance. Find out more about NETIC® ET Shielding, our Electro-Tin Plated Sheet and Foil...