MuMETAL® Stress Annealed Sheet & Fabrication
Service Detail from Magnetic Shield Corporation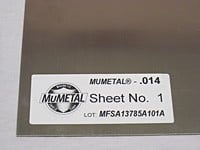 MuMETAL® is our most widely known brand, yet Magnetic Shield Corporation offers several other alloys which are used for similar, but different applications. MuMETAL® Stress Annealed sheet is used primarily in low intensity fields where high attenuation is desired (high initial permeability & high shielding efficiency). Available as stress annealed or partially annealed for ease of machinability, prototyping, and fabrication.
MuMETAL® is used for fabricated shields such as enclosures, cylinders, cans, channels or 3D boxes. Typically, atmospherically controlled Perfection Annealing is required after severe bending, stamping, machining, rolling or welding to provide maximum shielding performance. MuMETAL® alloy is available in many forms, but most shields are fabricated from our sheet or coil stock in gauges from 0.014" to 0.062" thickness [0,36mm to 1,57mm].
Evaluation Lab Kits: Increase confidence and manage project budgets with hands-on evaluation, testing, and prototyping today. Buy Evaluation Lab Kits including alloy samples.
---