Zero Gauss Chambers For Research
Featured Product from Magnetic Shield Corporation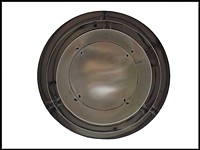 The ZG-218 consists of three chambers, each made of 0.062" [1,57mm] MuMETAL® and is designed to attenuate external low frequency A.C. fields up to 1,500 times. Each of the three magnetic shield layers consists of a cylinder with one closed end and one open end (access opening). A close-fitting, removable cover is provided on the access opening end. Of all geometric shapes, a cylindrical configuration is one of the most effective for absorbing external magnetic flux lines, thus creating an efficient magnetically shielded finite space.
The standard model ZG-218 has an inside work area measuring 18" diameter X 54" length, and is universally designed to solve most application requirements, however, custom sizes and configurations can be quoted to your exacting specifications.
Suggested optional accessories are a Degaussing Coil for reducing residual magnetism and a matching sized Cradle to hold the chambers in a stable position are both available upon request.