Digimar 817 CLM Quick Height Instrument...
Product Announcement from Mahr Inc.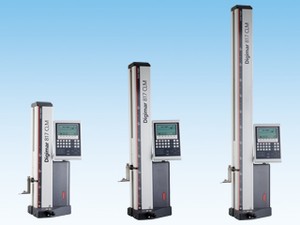 The new Height Measuring Instrument Digimar 817 CLM with the innovative
Quick Mode. Highly accurate rapid measurements, a wide range of measuring and evaluation possiblities and excellent operator comfort.
Features:
Measuring system
Excellent accuracy and reliabilty due to the optical incremental measurement system with the double reader head
Dynamic probing system enabling high repeatability
Air bearings system for light and smooth movement
Precise measuring head on stainless steel guideways
Motorized measuring carriage simplifies measurement runs
Probe constant remains after the instrument is switched off
Integrated rechargeable battery with a long operating time span for mains independent measurement
Temperature compensation with an integrated temperature sensor
Operating and display unit
Large and clearly defined function keys
Easy to read background lit graphic LCD-Display
Operator guidance with self-explanatory icons / pictograms
Operator prompts and menus are available in several different languages
Possible to set additional zero points on a work piece
RS232 and / or USB data output for further data processing
Save measured data on the integrated USB memory
USB interface to connect a compatible USB printer
Additional measuring instruments with OptoRS232-interface can be connected
Secure the future due to software update potential
Automatic Stand-by mode / background lit display can be switched off after defined length of time to save power
Selectable Auto-off function, without loss of measured values
Supplied with: Height Measuring Instrument incl. operating and display unit, carrier 817h1, probe K6/51, setting block 817eb, operating instructions, mains power adapter, USB cable
Download PDF with Technical Data
Please click on the links for more information or request a quote today!
---