Socket-Weld Hydraulic Flanges - SEA, JIS, ISO
Featured Product from MAIN Manufacturing Products, Inc.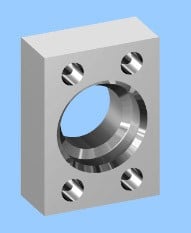 MAIN Manufacturing Products has manufactured and distributed hydraulic flanges to SAE J518, ISO 6162, ISO 6164, JIS and other flange standards for over 50 years. Main Manufacturing also manufactures and/or sells flange adapters, SAE split flanges, manifolds, subplates, special hydraulic connectors and other components.
WHY USE MAIN MANUFACTURING PRODUCTS?
EXPERIENCE & QUALITY - comes from over 50 years of experience, our employees' dedication to quality, and a well equipped and picky QC department.
AVAILABILITY - and on time delivery comes form our over 4 million-dollar inventory of standard flanges, special flanges, and other components (7500+ different items) and a quick turnaround of non-stock items.
ASSISTANCE - experts are available to HELP YOU and review your orders. MAIN's engineers are part of the SAE, NFPA, and ISO committees.
EFFICIENCY - was designed into our "State-of-the-Art" 48,000-sq.ft. US manufacturing facility. We can handle both small and large special requests quickly.