Industrial Cased Custom Three Phase Transformers
Featured Product from Majestic Transformer Co.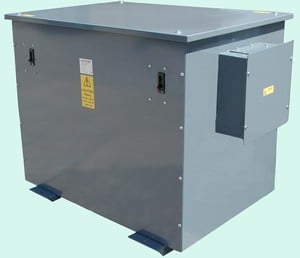 Our transformers in this range are all custom built to order and are suitably protected by a sheet metal case. They are normally wall mountable up to 2250VA and floor standing above this rating. Many requirements are for isolation and/or conversion of three phase machines, or creation of a neutral where none is available. Our standard cases are IP33 but we can supply up to IP66 if required, usually with little or no addition to the supply lead-time.
All our isolation transformers incorporate an electrostatic screen between the primary and secondary windings and are built in compliance with the latest European standards. Other worldwide standards, e.g. UL, CSA can also be met. In addition, isolation from the main supply may not be required, and in this instance an Auto Wound transformer may be considered to economise on size and cost. Contact our sales office for details.
We keep an extensive range of our base materials enabling us to respond to your requirments within 2/3 weeks of receipt of your order.