30mm Stacklights for Semi-Autonomous Applications
Featured Product from Mallory Sonalert Products, Inc.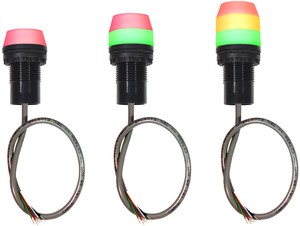 Click here for the Product Video.
Mallory's Industrial 30mm Stacklights (AKA Tower Lights) have a low cost point which enables them to be used in most semi-automous applications including 3D-Printers, Robotics, Laboratory Equip, Printing Machines, Pharmaceutical Equip, Label Machines, Packaging Equip, Medical, Inspection, and Food Machinery.
These ultra-compact UL approved Stacklights are available with or without sound and can be mounted directly on the machine or purchased with a 4 inch pole.