ATOM Full Head Beam Die Cutting Presses
Product Announcement from Manufacturers Supplies Co.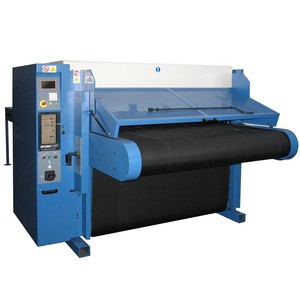 ATOM Full Head Beam Die Cutting Presses are unique within the industry in terms of performance & quality. The patented Y fulcrum & single cylinder allows a perfect parallelism between the striking surfaces, more uniform distribution of the cutting force & a faster cutting cycle than traditional hydraulic twin cylinder or four-post die cutting machines. When compared with traditional traveling head & swing beam (clicker) presses, a full head press shows a quicker cutting cycle since there is no need to move the beam along the machine width. Another advantage is between the cutting surface and the upper beam where it is possible to use very large cutting dies, in theory as large as the cutting platen. For these reasons, our ATOM full head beam die cutting presses are common when high cutting power is needed & large or multiple shaped dies are used. The high cutting power enables them to cut multiple parts & plys in one stroke.
This range of die cutting machinery can develop 25-58-77-110-165 tons of cutting force with bed sizes up to 86" (W) x 70" (D). There are a variety of material feeding systems available for both sheets and roll goods including:
Single or Double Sliding Work Tray The ATOM S600 series full beam press with single or double sliding work tray greatly enhances the operating visibility for material & cutting die placement. On the DT (Double Tray) version, two independent sliding work tables are mounted thus allowing two operators to share the same machine in order to optimize it's usage and production. It is possible to set the power & stops independently on each side, therefore allowing different dies & materials to be used on each table. Both series are available in an automatic version where the tables automatically travel into the press and back to the operator by a simple two-hand button control.
Receding Head : The ATOM Receding Head Beam Cutting Press allows easy access to the material and cutting dies for the operator due to it's increased visibility of the head placement. It is the fastest receding head press on the market with beam movements of 534mm per second. Primarily used for sheeted goods, an optional nip roll feed system can be employed for feeding roll goods in a semi-automatic fashion.
Automatic Incremental Tray : The ATOM HT series with powered incremental tray is designed to cut large dies or group of dies of varying sizes. The cutting dies can be positioned on the material or underneath for long production runs. The adjustable speed and step allow a fully automatic cutting cycle with speeds up to 25 strokes per minute.
Automatic Belt Feed : The ATOM BP series automatic full beam cutting press with feeding clamps and transport cutting belt are powerful, extremely precise and fast and allow for a fully automatic cutting cycle, with cutting speeds up to 30 strokes per minute on the entire width of the material. The BP series are suitable for both roll and sheeted goods, single or multi-layered. A special software is employed to achieve the highest cutting speed & optimal material yield with a positioning tolerance of +/- 0.1mm.
Automatic Belt Feed with Moveable Trolley : The ATOM BPH series automatic full beam cutting press share the same main features of the BP line, adding the ability to mount a die-support plate to a moveable trolley which converts it into an automatic programmable traveling head press.
Automatic Nip Roll Feed : The ATOM S300 series full beam cutting press with programmable nip roll feeding unit is an economical alternative to the belt feed machine. The electronic control unit with counter and programmable feeding step allows for a fully automatic cutting cycle when feeding roll goods. The automatic pad shifting device guarantees a clean cut every time and the mechanical head stops insure precise control of the cutting depth.
All of the ATOM Full Beam Cutting Presses share the same common features:
1) Patented Y kinematic mechanism with a single central piston. The single piston solves several problems of the multiple piston (two & four post) technology. Our machines can grant perfect parallelism between the cutting surface and upper beam + a greater uniformity of cutting force distribution. These features allow for a better quality cut and higher precision.
2) Three different stop systems granting high penetration precision for each kind of job.
Automatic Pressure Setting : No settings are needed when changing cutting dies.
Electric Stop Sensor : Allows the usage of small dies on high tonnage machines. This system does not need any setting of cutting power to match different die blade development.
Mechanical Stops with Micrometric Adjustment : Adjustable in 0.1mm increments, the mechanical stops grant perfect control over blade penetration.
Please contact us at the following locations for more information on our complete range of ATOM Die Cutting Systems & Presses:
MSC Cincinnati OH : 513.677.3311 : information@mfgsup.com
MSC St. Louis MO : 314.770.0880 : information@mfgsup.com
---