ATOM Traveling Head Die Cutting Press
Product Announcement from Manufacturers Supplies Co.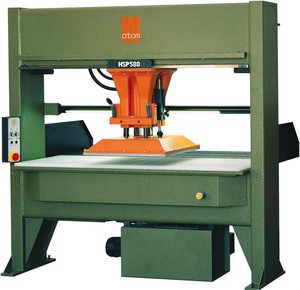 ATOM Traveling Head Die Cutting Presses offer a wide & easily accesible working area and a cutting power ranging from 25-35-50 tons. The traveling head press can be used to cut a variety of synthetic materials in either roll or sheet form up to 90" wide. The main features are defined in two ways; structural and control system. Strcutural refers to the cutting power, working area dimensions, & material size while control system refers to automatic power and stroke end adjustment, automatic detection of die position (RAF Version) on the cutting surface & automatic trolley displacement.
Listed below are features that make the ATOM Traveling Head Die Cutting Press unique within the industry:
High speed of trolley positioning & cutting which insures increased productivity
Automatic adjustment of cutting power
Dynamic brake system which improves performace and reduces the consumption of the motor
Patented hydraulic system that limits power consumption by using motors with less HP
Heavy duty framework, extremely rigid & resitant
Designed with top quality components which insure low maintenance costs
Cosistent cutting power for continuous use
Advanced control & safety systems on 'CE' certified models
All models can be equipped with the following options to increase productivity:
Semi-automatic nip roll feeding device
Material Handling Cart up to 12 rolls (Designed Accordingly)
Simple or programmable cut counting device
Overload protection device
ATOM Programmable Traveling Head Cutting Press: In addition to the manual traveling head press, ATOM manufactures a programmable automatic traveling head cutting press with moveable trolley and fixed head capable of developing 25-50 tons of cutting power in continous service. They are a simple & inexpensive solution for cutting rigid & semi-rigid materials in either roll or sheet form. The major advantage to any CNC automatic cutting press are material & labor savings and with cutting speeds up to 60 strokes per minute they can easily replace 3 manual traveling head machines.
The movements associated with this die cutting system are controlled by it's own PLC and concern trolley translation & material feeding. The programming of the system happens in continuous movement through its own CNC. The material feeding system is guaranteed by nip rolls and cutting is carried out on a cutting pad which is fitted to an automatic pad shifting device. There are over 250 programs available and with it's user freindly interface, it is possible to carry out cutting programs, set the working parameters & the cycles of the machine.
Please contact us at the following locations for more information on our complete range of ATOM Die Cutting Systems & Presses:
MSC Cincinnati OH : 513.677.3311 : information@mfgsup.com
MSC St. Louis MO : 314.770.0880 : information@mfgsup.com
Spanish Website : www.troqueladora-atom.com
---