Automated Sample Cutting & Plotting System
Product Announcement from Manufacturers Supplies Co.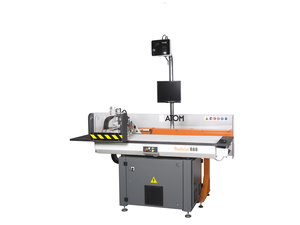 The new ATOM Flashcut 222 & 888 Automatic Dieless Knife Cutting & Plotting System is the ideal solution for any company needing to produce samples & prototypes quickly & accurately yet at the same time eliminating costly tooling & increasing time to market. By eliminating the out-of-pocket expense & time associated with producing a cutting die, the new Flashcut 222 & 888 cutting & plotting system - with it's increased speed, versatility & high performance - can turn the challenge of 1-offs & short runs into a catalyst for new business opportunities & increased profits.
Automatic Dieless Cutting Solution for Every Company
Compact, solid, reliable, but without compromises, it is the new standard for knife cutting tables over the next ten years. In the 1970s', ATOM introduced the G222 & G888 hydraulic clicker & traveling head die cutting presses, which became a reference for shoe & leather factories all over the world. Today, thanks to decades of experience & more than 275,000 cutting systems sold, ATOM presents the knife cutting tables, 222 & 888, "innovation in tradition."
The easiness to use, the limited dimensions, and the possibility to import the shapes from any CAD system make it particualrly suitable for sample departments producing shoes & leathergoods, gaskets in their various forms, medical components, corrugated & printed materials, technical textiles & composites, foam, rubber & many, many more.
A Workhorse for Short-Run Converting
Highly cost effective for short runs, from 10-500 components
Elimintate cutting dies & related problems & costs
Fast set-up & changover
Reduce time to market-design a component & produce it within seconds
Leave expensive & high production equipment undisturbed
Based on proven ATOM Flashcut technology
Flashcut 222 & 888 Features
Cordless mouse & keyboard to check all functions
High brightness projectors for the layout & piece identification
Complete accessibility to the working surface
Possibility to place materials larger than the working area thanks to the canti-levered beam structure & the back space for material support
Multi-tool (5 station) cutting head to cut, kiss-cut plot, score, crease, punch & mill
Smart partitioned zoned vacuum for maximum material hold
ATOM integrated automatic nesting software
All these features are available at an economical price.
Technical Specifications
Useful Working Area : 222 (1000 x 600mm) 888 (1600 x 600mm)
Maximum Material Thickness : 25mm
Maximum Cutting Speed : 80 Mts./Min.
Acceleration : 1G
Punching Frequency : 250/Min.
Pneumatic Circuit : 7 Bar 100L/Min.
Vacuum Pump Absorption : 4 kW
Maximum Size : 222 (1600x1235x2190mm) 888 (2220x1235x2680mm)
For more information on our complete range of dieless knife cutting & plotting systems, please contact us at the following locations:
MSC Cincinnati OH : 513.677.3311 : information@mfgsup.com
MSC St. Louis MO : 314.770.0880 : information@mfgsup.com
---