Automatic Guillotine Cutting Systems
Product Announcement from Manufacturers Supplies Co.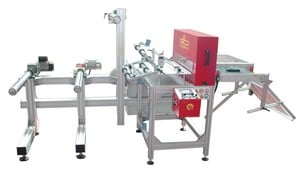 The Guidolin Girotto electronic automatic guillotine cutting systems, model GDX-1, is designed to cut sheets and blocks from a roll form using a blade and counter blade cutting system. The GDX-1 guillotine cutter can be set-up to laminate, slit and sheet a wide variety of adhesive and non-adhesive tapes, neutral and printed labels, foams, rubber, textiles, films and similar products.
This automatic sheeter comes standard with a useful working width of 300mm or 600mm (special sizes available upon request) and can cut materials up to 15mm in thickness with feeding speeds up to 500mm per second. The transport conveyor system is equipped with two anti-adherent silicone rollers and is controlled by a servo step motor coupled with an incremental encoder for excellent positioning tolerance (+/- 0.1mm). The new automatic guillotine cutting machine comes standard with a 4" Color TFT Touchscreen for the complete control of the machine and all its optional systems.
Available Optional Systems
Unwind with motor reducer with start and stop controlled by a photocell for the automatic unwinding of the material.
Friction unwind for the material lamination complete with guides
Powered rewind for the recovery of the liner
Dancer arm on guides to keep in perfect tension the unwound material
Optical fiber photocell for registration (marked or printed references)
Incremental encoder with direct contact on the material for precise feeding control
Razor blade slitting system with registration on the axes
Chute on the exit side of the machine with adjustable frontal stop to stack the cut pieces, complete with photocell to detect the presence of the material
---