Automatic & Semi-Automatic Slitters-Rewinders
Product Announcement from Manufacturers Supplies Co.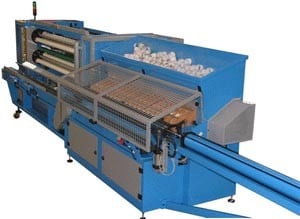 FEBA Srl Converting Machinery custom engineers & manufactures fully automatic & semi automatic slitters-rewinders, log winders (loggers), unwinders & packaging machinery for self adhesive tapes, non-adhesive tapes, foam tapes, specialty laminated materials & medical tapes. Materials most commonly converted on this type of machinery include; PVC, PP, OPP, BOPP, masking tape, ribbon, duct tape, foam tapes, cellophane, double sided adhesive tapes, transfer tapes, aluminum, paper tapes, cloth tape etc..
FEBA slitters-rewinders, loggers, log winders, & unwinders are built accordingly to meet the customer's specific converting application.
Technical Specifications
Working Width : 1000mm - 3100mm
Material OD Jumbo : 600-800-1000-1200mm
Rewind OD : 180-250-300-400-500-600-750mm (Special Sizes Upon Request)
Rewind Core ID : 1", 2", 3" & 6"
Mechanical Operating Speeds : 150-300-400-500 Mts/Min
Minimum Slitting Width : 12mm
The following features can be fitted to meet your material requirements:
Unwind Unit : Shafted or Shaftless
Jumbo axe motorized by A.C. motor (system automatically decreases the brake tension while the jumbo OD decreases)
FIFE edge guide system with +/- 75mm stroke
One adjustable lay-on-roller
Web break detector
Liner recovery positioned above the jumbo with automatic web guide
Splice Table : pneumatic, V groove or vacuum
Hydraulic jumbo roll lifting-loading device
Material Handling
The FEBA slitter-rewinder & loggers are fitted with smoothed path rollers, which can be coated in PLASMA or SILICONE and are positioned in close proximity for the ideal handling of self-wound and linear adhesive materials.
Also fitted, to assist in uniform web movement, is a large 'pulling' unit powered by an AC motor, positioned centrally between the unwind & rewind
Variable curvature banana (bow) roller to avoid wrinkles when logging
Auto end-tab application for non adhesive paper
Mechanical trim recovery unit (two trim winders with oscillating proportional to the speed)
Slitting Units (Razor, Score-Pressure or Scissor Cut)
Lubrication device for all slitting units
Razor blade can be in-air of v-groove type
Score cut (pressure) slitting unit on interchangeable cart complete with niturated steel roll, steel support for dove-tail bar and air collector with fast connection
Scissor cut slitting unit complete with trolley for quick change out
Rewind Unit (Simplex, Duplex, Single Turret or Twin Turret)
Two turret units (revolver) with 2 shafts each (ID 3"), with automatic rotation
Automatic centering insertion and release of shafts on turrets
Two rewind A.C. motors electronically controlled by servo-diameter calulcator and encoder feedback
Two automatic transversal cut units with smoothing of the ends (tab position controlled by encoder feedback)
Control counter of tab positioning on the roll by optic reader with tolerance of +/- 1.5mm
Shaft Transfer System for Loading/Unloading
One robot to automatically move the mandrels (shafts) from the slitter to the output roll conveyor and from the slitter to the core loader and vice-versa
The unit is complete with 4 brushless motors controlled by multi-axes central unit
5 axis control card : 4 axes to control the robot and 1 to control the automatic core loader. Both are interlocked.
Automatic Core Loader in-line with Slitter-Rewinder
Machine is complete with automatic unloading of the rewound rolls and loading cores onto the shafts in line with the slitter-rewinder
Trolley movement by recirculating ball screw (positions controlled by the multi-axes central unit)
Equipment to control core selection loading
Output rolls : horizontal or vertical position
Industrial PLC Type OMRON, Allen Bradley or Siemens 10" Touchscreen
Alpha-numeric display
Full diagnostic control
Solid state alarm
Slitter-Rewinder instructions with fault finding
All slitting operations stored into the PLC, including: meterage, number of cycles, speed, brake tension, tab application, minimum gap
400 Recipes
Modem Link
Please contact us at the following locations for more information on our complete range of FEBA Slitters-Rewinders, Single Knife Lathe Slitters, Packaging Machines & Custom Laminators:
MSC Cincinnati OH : 513.677.3311 : information@mfgsup.com
MSC St. Louis MO : 314.770.0880 : information@mfgsup.com
---