CAD/CAM Dieless Knife Cutting & Milling System
Product Announcement from Manufacturers Supplies Co.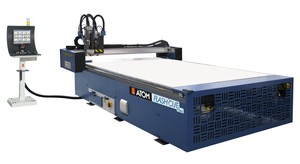 The ATOM Flashcut EMHD 2 Z-Axis Dieless Cutting & Milling System was developed for companies that produce packaging, tool case inserts, & sound dampening components made from soft, rigid & laminated foams with a maximum thickness of 130mm. The combination of oscillating knife cutting & milling in a single machine allows a company to rapidly increase time to market, eliminate costly steps in the manufacturing process including cutting dies, significantly reduce labor costs and gain new business by producing prototypes within minutes.
The new double Z axis head provides independent penetration control of both tools which allows the working of 3D shapes of any density foam (i.e. expanded PE, PU etc..) or very hard materials like plastics, wood, phenolics, composites even alloys with extreme accuracy. To mill a wider range of materials ATOM designed a new head, holding a 3 kW electric router spindle, with variable speed turning from 1,000-50,000 RPM. A liquid cooling system allows the mill to operate 24 hours per day. The working area is kept perfectly clean with its own dust extraction vacuum system.
The same features that made the traditional HD (High Daylight) Flashcut a huge success in the foam & packaging industry are still employed; oscillating knife cutting up to 130mm, robust structure, smart partitioned/zoned vacuum system for maximum material hold, blade lubrication device & powerful yet easy to use ATOM nesting software. A variety of table sizes are available to suit a wide range of industrial applications with widths ranging from 61"-80" and lengths up to 200".
Please contact us at the following locations for more information on our complete range of ATOM CAD/CAM Dieless Knife Cutting & Milling Systems:
MSC Cincinnati OH : 513.677.3311 : information@mfgsup.com
MSC St. Louis MO : 314.770.0880 : information@mfgsup.com
Spanish Website : www.mesasdecorte.com
---