Custom Foam Laminating Machines
Product Announcement from Manufacturers Supplies Co.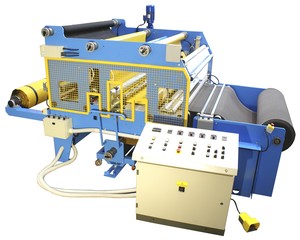 M.S.C. engineers, designs and manufactures custom laminating systems to laminate cold-bond & heat activated PSA to a variety of substrates including foams, rubber, textiles, composites and similar materials. A wide variety of standard and custom laminators are available from our basic 'simple' laminator for single sided lamination applications to our custom laminating systems design with the most sophisticated tension controls and accessories for a variety of applications & processes. Custom designed laminators can include options like in-line slitting units, automatic 'flying knife' sheeting units, multiple upper or lower unwinds & rewinds for liner recovery, composite lamination, etc.., dancer-arms to feed in-line with a seperate cutting system, automatic material web guides and many more. Heating options vary from standard infra-red lamps for heat-activated products to hot oil cylinders for the lamination of films and adhesive net.
Listed below are more details on technical specifications, optional features & accessories that will dramatically increase your overall quality and production through-put.
Technical Specifications
Material Width : 1,000mm - 3,100mm (100mm Increments)
Material OD : 800mm - 1,800mm (200mm Increments)
Operating Speed : 20 mts/min. - 60 mts/min.
PSA (Adhesive) OD : 500mm (600mm on Request)
Core ID : 1.5", 2", 3", 4.5", 6", 8" & 10"
Rewind OD : 1,000mm - 1,800mm (900mm Maximum on Duplex Version)
Operating Features & Available Options
Belt Style Lamination Unit : The belt style lamination unit was specifically designed for laminating 'super' soft foams or materials of an elastic nature. The gaps between the in-feed and out-feed are fully adjustable on all four corners. The four adjustments are independent to enable the lamination of the adhesive tape to the foam with soft increasing pressure. This is to insure that the material is certainly in contact with the adhesive tape without creating any tension (to avoid stretch & curl). Tolerances of finished product are held within +/- 0.1mm.
Tension Control: A variety of tension control devices available depending on the material being processed.
Pneumatic Disk Brakes : All of our basic laminators are fitted with a pneumatic disk brake for tension control. This style brake works well with most materials tht are rigid in nature and for the PSA unwind. The tension is adjusted manually through a potentiometer as the jumbo decreases in diameter.
Proportional Pneumatic Brake with Sonar : A similar style pneumatic disck brake is fitted but the tension is proportionally adjusted automatically via sonar as the jumbo diameter decreases in size.
Powered Unwind with Loop Control : A powered unwind unit can be fitted which automatically unwinds the product when the loop sensor no longer sees the material. Once the sensor is made, the unwind process pauses and the lamination continues.
Belt-Style 'Lay-on-Roller' : The belt style unwind works as a lay-on-roller which slowly unwinds the roll at very low tension. The entire unti adjusts automatically as the jumbo decreases in diameter. This style unwind is very popular with foam converters who laminate soft, elastic foams.
Dancer Arm : A dancer arim can be fitted on the unwind and rewind location with the tension fed directly back to the PLC. Tension between the jumbo and finished roll are controlled automatically.
In-Line Slitting Units : A variety of in-line slitting units can be adding to the versaility of our customer laminating systems. The proper slitting unit is determined by the type of products being slit, density, slit widths etc.. Standard scissor cut (blade & counterblade) or pressure cut units for materials up to 20mm in thickness or powered rotary units for slitting thick (50mm), dense materials are available.
Score (Kiss) Cut Units : Some applications require the PSA liner to be cut or scored but the adhesive film kept in tack. With this application, a score cut assembly, with lubrication, is fitted with micro-metric knife holders precisely adjusted according to the thickness of the paper. The anvil is typically plasma coated to avoid and adhesive build up.
Heating Options : There are a variety of heating options available based on the materials and adhesives to laminate. Standard infra-red can be used for heat activated adhesives and the quantity of lamps are determined based on the activation heat required and desired operating speeds. The IR lamps are fitted to a retractable pneumatic unit which engages/disengages when cycle start/stop actuated. Hot oil cyliners can be fitted in place of the tradtional nip roll (calendar) when laminating adhesive films or netting. The temperature of the cylinder is controlled by an off-line hot oil unit.
Transversal End Cut Sheeting Units : We offer a number of solutions for roll to sheet and sheet to sheet applications.
Semi-Automatic Sheeting Unit for Rolls : The operator simply enters the length of the finished product and when the meterage is reached, the lamination process stops & the rotary knife travels across the width of the material to make the cut. Once the cut is complete, the lamination process continues and the above cycle is repeated.
Sheet-Sheet Applications : When laminating sheeted goods only, the machine can be fitted with an automatic end cut unit to the cut the adhesive between the two sheets. Simply enter the sheet length and the machine will calculate the gap once the edge of the inital sheet is detected by a sensor.
Fully Automatic Sheeting Unit (Flying Knife) : The fully automatic sheeting unit was designed for non-stop production. The movement of the 'flying knife' is determined by the length of the sheet to be cut. Speeds up to 20 mts/min can be run in fully automatic mode without stopping the machine; capable of producing one 610mm laminated sheet every 6 seconds! An automatic lubrication device is fitted to the powered rotary knife to prevent adhesive buildup.
All of our laminators & laminating systems are designed accordingly to meet the customer's specific converting application so please contact us today with your toughest job so we can engineer a solution to improve your current manufacturing process.
---