Dieless Cutting Solutions for Conveyor Belts
Product Announcement from Manufacturers Supplies Co.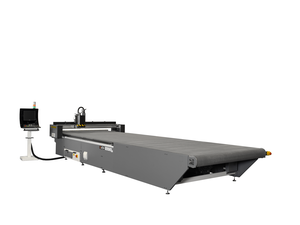 ATOM SpA are the foremost European specialist in the manufacture of CAD/CAM dieless knife cutting systems. Their range of Flashcut automated dieless knife cutting tables provide manufacturers of conveyor belts a turnkey solution for design, prototyping & manufacturing. Coupled with off the shelf and bespoke 2D CAD packages, the process from design concept to cut component is made simple & accurate with instantaneous results. Historically, belt suppliers would stock many widths of rolls and merely cut it to length. Our machine has allowed them to stock fewer variations in widths and produce mutiple sizes from the same roll. Of particular interest is the ability to cut "finger joints", with samples and pictures available for review.
Listed below are some advantages you will see with an ATOM Flashcut Cutting System:
Reduce development & manufacturing costs.
Increase production throughput
Cost Effective - Optimises use of material & virtually eliminates waste.
Accuracy -Produce slits, holes & finger joints with a high degree of accuracy & repeatability assured every time
Flexbility - Cut & Mill a wide range of rigid & flexible materials including polyurethane, PVC, polyester, teflon, textile, rubber, fiber glass, cotton, leather etc..
Precision - Curves & radiuses cut effortlessly with no over-cuts
Efficiency - Cut to width & joint profile carried out on the same machine.
Punching - Punch up to 220 holes per minute (0.8mm - 8mm OD)
Milling - Mill pockets, grooves & edges.
Variety of Table Sizes - Up to 3 Meters Wide / 6.1 Meters Long.
ATOM Flashcut Features & Benefits
Flexible rangle of tool heads can be fitted to the same machine - knife cutting, milling, punching, plotting & kiss-cutting
Machines available in a range of widths & lengths / the option of a static or roll-feed conveyorised cutting bed
High speed punch unit - capable of producing 0.8mm (minimum) diameter holes @ a rate of 220 per minute
Powerful smart partitioned zoned vacuum system ensures material is held firmly in place
Robust sturdy construction guarantees a low service requirement
The most popular tables sizes for conveyor belt manufacturers are listed below:
1) Flashcut 3010 (3,000mm W x 1,000mm L)
2) Flashcut 3020 S or B (3,050mm L x 2,050mm W)
3) Flashcut 3026 S or B (3,050mm L x 2,600mm W)
4) Flashcut 4020 S (4,050mm L x 2,050mm W)
5) Flashcut 6115 S (6,100mm L x 1,550mm W)
6) Flashcut 61260 S (6,100mm L x 2,600mm W)
For the complete range of tables available, please visit www.knifecutting.com
To find out how your business could reap the benefits of a cost-effective, fully automated dieless cutting system, please contact us @ our office below. Alternatively, feel free to submit materials for cutting trials to the address detailed below including a .dxf file.
Manufacturers Supplies Company
106 Commerce Blvd.
Loveland, OH 45140
(O): 513.677.3311
E-mail: information@mfgsup.com
Website: www.knifecutting.com
---