Dieless Knife Cutting Solutions for Gaskets
Product Announcement from Manufacturers Supplies Co.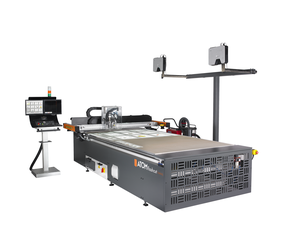 Approaching 400 installations in the United States alone, the ATOM Flashcut 3015 S UP dieless knife cutting system has become the machine of choice, from small and medium gasket converters to major manufacturers. The diversity of the ATOM Flashcut is the key factor to it's succss. From concept, through research and development, prototyping, multiple applications to production quantities-the Flashcut can be quickly developed to suit your gasket cutting needs.
Any of the following conditions make dieless knife cutting the logical solution compared to traditional die cutting or cutting by hand.
Eliminate cutting dies and related problems & costs
Increase production flexibilty
Reduce time to market-design a component and produce it within seconds
Rapid prototyping, samples & pre-production runs
Short, medium runs & 1 off production is viable
Material savings and reduced scrap rate
Shapes are either simple or to complex for die cutting
No cutting by hand or with templates
CAD system used to design patterns
Many of our customers have found that the versatility of our system enables them to accept otherwise impossible orders. The ability to produce prototypes and samples rapidly, gain customer approval and then produce production quantities is a powerful tool in building customer relationships.
With the combination of a multi-tool cutting head & pneumatic oscillating knife chuck, smart partitioned/zoned vacuum table & robust structure, all of the available non-asbestos materials, graphite (tang included), open & closed cell foams (130mm thick), laminated foams, adhesives, rubber, conveyor belting, CNAF, fish paper & many more are cut with ease. The nesting software package allows automatic optimization of layouts, supporting the shape-within-shape function, which is especially useful when mixing large & small gaskets. It is also possible to use scrap or remnants of previous cuts with the overhead digital projection system.
Waterjet cutting systems are also dieless like an ATOM knife cutting table, and are commonly used for cutting gaskets, foams and similar materials. They can reach high cutting speeds in some cases & can be quite useful for large production runs. However, there are multiple advantages of knife cutting over waterjet cutting.
Advantages of Knife Cutting over Waterjet Cutting
Economically priced-initial capital investment typically 15-25% less
Eliminate delamination & drying of finished product
Capable of multiple 'depth' cutting, kiss-cutting, creasing, milling-routing, punching, engraving, plotting, & 45° angle cutting
Consumable and daily operating costs are considerably less
Minimal preventative maintenance & running costs
Special equipment for water treatment is not needed
Stock machines are available at both of our locations so please contact us today for a dieless cutting demonstration to see how your company can reduce labor & tooling costs, improve material yields, increase market share, gain productivity & throughput of cut parts and more importantly optimize your profit margin.
Typical Table Sizes Used in the Gasket Industry
1) Flashcut 1515 S (1,550mm x 1,550mm Work Area)
2) Flashcut 3015 S (3,050mm x 1,550mm Work Area)
3) Flashcut 3020 S (3,050mm x 2,050mm Work Area)
4) Flashcut 6115 S (6,100mm x 1,550mm Work Area)
Please contact us at the following locations for more information on our complete range of ATOM Dieless Knife Cutting & Milling Systems:
MSC Cincinnati OH : 513.677.3311 : information@mfgsup.com
MSC St. Louis MO : 314.770.0880 : information@mfgsup.com
---