High Speed Rotary Die Cutting Machines
Product Announcement from Manufacturers Supplies Co.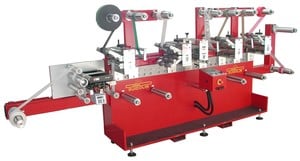 Guidolin Girotto Srl, the leading manufacturer of standard and custom engineered high speed rotary die cutting machines offers a complete range of rotary converting systems studied and developed for the die cutting and kiss cutting of double sided adhesive tapes, technical tapes, foams & plastics, rubber, composite materials, felts, abrasives, cork, textiles and paper. The extremely solid frame, modular stations, numerous options and computer control system make it versatile, fast and easy to use, assuring rapid product changeover, decreasing down time and production costs.
Unlike most rotary die cutting machines on the market which are designed for one specific application, or require extensive time and labor to change from one job to the next, the Guidolin machine is engineered and designed for multiple applications by simply removing one station and moving it to another position on the machine - the fixed locating pin and single bolt allows for quick change station to station. The modular stations available include a variety of inboard unwinds (friction or ultra-sonic sensor for tension adjustment), lamination group with rolls, lower and upper friction unwinds for liner removal, lower & upper motor rewinds, die cutting station with transversal and longitudinal micro-metric regulation (magnetic or hard tooling), vacuum aspirator for slug removal, longitudinal slitting with either fixed razor blades, circular blades/counterblades, or pressure rotary blades, conveyor with feeding rolls and an automatic stacking unit.
Our rotary die cutting systems are available in three widths : 175mm, 250mm & 350mm, with body lengths of 1.2M, 1.7M, 2.2M and 3.0M, and operating speeds of 0-100 meters per minute.
Rotary RO Series Points of Strength
Modular Strengths
Every station is movable
Gears are worm gears for extra precision
Fixed locating pins allow for quick change station to station
Machine may be purchased with limited options to fill current requirements and stations can be added as needed in the future
Simplicity Strengths
Simple spring clutches, less electronics, less dials for operator adjustment & error
Manual web guide system, with GD positive stop/set screw combination, and fine adjustment knobs as well
Single motor and driveshaft - less problems associated with complex servos and electronics
Transport and Laminating stations have a single adjustment screw in the center, for easy closure allowing the path rollers to stay completely level - eliminating the wandering of the web - a common problem with dual adjustable transport rollers
Electronics
Touch screen with the ability to save parameters for 99 jobs
Can count distance or parts cut based upon number of teeth and cavities in the die for precise count of either parts cut or distance traveled
Although the desired speed can be saved for a job, the machine will not start until the speed control is set to zero to prevent crashing the web or injuring an operator
Sonar to control the tension of the bottom bobbin unwind for sensitive materials
For more details on our range of rotary die cutting & converting machinery, or, if you would like to arrange for a demonstration at our facility, please contact us at the following location:
Manufacturers Supplies Company
106 Commerce Blvd
Cincinnati, OH 45140
(513) 677-3311
information@mfgsup.com
---