Narrow Web Dieless Kisscutting Systems
Product Announcement from Manufacturers Supplies Co.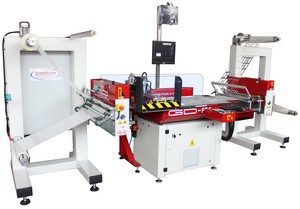 The new narrow web dieless knife cutting / kiss cutting system is a complete narrow web converting platform coupling the ATOM Flashcut Knife Cutting Table with Guidolin Girotto web handling equipment. This concept allows converters of double sided adhesive tapes, masking tapes, foam tapes, protective foils and films, laminated textiles, EPDM, neoprene, plastics, vinyls, cork and similar products the convenience of kiss-cutting and/or total cutting in roll-roll or roll-sheet form without the use of a rotary cutting tool or steel rule cutting die.
Companies invest in our dieless cutting solutions to improve their productivity. Productivity can be defined in a number of ways: faster and lower cost of production, short production runs become viable, rapid changeovers, no investment in traditional hard tooling, samples & pre-production runs, material savings and reduced scrap rate. The versatility of a dieless system enables our clients to accept otherwise impossible orders. The ability to produce prototypes and samples rapidly, gain customer approval and then produce production quantities is a powerful tool in building customer relationships.
With the standard 5-Tool (multi-tool) cutting head installed, a variety of tooling combinations can be employed to process a diverse amount of materials and applications. The main 40mm cutting station can be fitted with either a micro-metric drag knife for kiss-cutting films, laminates and adhesives, electric oscillating knife for kiss-cutting or total cutting thin foams, silicones and textiles or the pneumatic oscillating knife for cutting thicker foams, heavy rubber, non-asbestos and similar materials up to 25mm in thickness. In addition, the 5-tool head has 2 ea. 20mm auxiliary stations which can be equipped with a kiss cutting tool, creaser wheel, punching tool or a 45 degree angled knife. A single plotting pen for part identification and pricker tool round out the group. As an option, a camera can be fitted to automatically recognize the fiducial points and then cut around the desired pattern.
This narrow web dieless converting system is available in three different models:
Flashcut 222 - 600mm (D) x 1,000mm (W)
Flashcut 888 - 600mm (D) x 1,600mm (W)
Flashcut L12 MS - 1,000mm (D) x 1,200mm (W)
..and can be configured with the following material handling options:
Unwind Options
Single motorized unwind with photocell loop control
Single unwind complete with transport with photocell for the automatic unwinding of the material
Lamination : two friction unwinds with lamination on the axes complete with transport designed for the continuous lamination of double sided adhesives
Outboard Options
Upper single motorized rewind to recover the waste/scrap
Pneumatic expulsion unit to evacuate internal holes or cut pieces
Longitudinal slitting system
Automatic guillotine cutting system
Single or double outboard rewind to recover the kiss-cut material
To understand your requirements and applications, please contact us today and let our team of engineers design a custom dieless converting solution to improve productivity, maximize material yield, and significantly reduce labor and manufacturing costs.
Manufacturers Supplies Company - (513) 677-3311 - information@mfgsup.com
---