Precision Narrow Web Cutting Systems
Product Announcement from Manufacturers Supplies Co.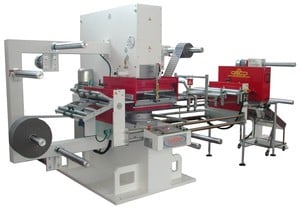 Guidolin Girotto Srl is a certified leader in the engineering and manufacturing of high speed, mechanical flat bed die cutting presses, rotary die cutting machines, dieless kiss cutting systems, guillotine cutters & narrow web laminators. Our range of converting equipment are studied and developed to kiss-cut and totally cut any non-metallic flexible material like adhesive and double sided adhesive tapes (3M, Tesa, Avery Dennison, Lohmann, Nitto, Scapa etc..), foam materials with open or closed cells, coupled materials, plastics, felts, abrasives, filters, Velcro, rubber, gaskets, labels, technical textiles, composites, medical and electronic materials.
Guidolin Girotto's machines can be used in a wide variety of industries. Besides the standard versions, they can be equipped with various optional systems based on the customer's specific converting requirements. They can laminate, change and add a liner, die cut & emboss, register, remove the scrap, expel die cut pieces, longitudinally cut/kiss cut, transversally cut to create sets, rewind the material etc..
Due to the modular stations, wide variety of options and the computerized system, they are extremely fast, versatile, easy to use and guarantee rapid product changeover with low production time and costs.
We mainly address the following sectors:
Converters of adhesive and double sided adhesive tapes
Converters of neutral and/or printed labels (price labels, stickers, bar codes)
Converters or paper and plastic materials (electronic cards & devices, computer and mobile components, optical polishing pads)
Converters in the automotive field (internal gaskets, automotive emblems for cars)
Converters or open and closed cell foam materials
Converters or cork (glass carriage in construction industry)
Converters in the medical field (blood-strips, corn-pads, and other medical devices)
Manufacturers of electronic devices
...and anyone who may have a standard or special die cutting requirement.
Our technical skills and experience in the field allows us to constantly develop innovative strategies in cutting solutions and in our machinery range, in order to satisfy the requirements of complex applications by ensuring rapid and high cutting precision.
In addition, our company guarantees an efficient pre and post sales service through our technical engineering team who are always available to support the customer. We export our machines worldwide through our vast network of distributors who are at your disposal to provide you with further information, solve a complex converting application or demonstrate our equipment in their factory showroom.
Excellent quality standards, high cutting precision, power and versatility are distinctive features of our machinery which qualify our company as a world leader in the narrow web converting market.
---