Rotary Converting Systems
Product Announcement from Manufacturers Supplies Co.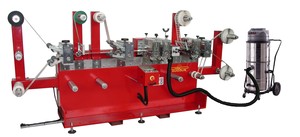 The Guidolin Girotto rotary converting system, model RO 350, has been designed and developed for the die cutting and kiss cutting of adhesive and double sided adhesive tapes, foam tapes and any other technical flexible materials to satisfy the requirements of high production with extreme cutting precision. Guidolin Girotto is a worldwide distinction sign in the technical die cutting sector with more than 25 years experience in rotary die cutting equipment manufacturing. The RO 350 high speed rotary die cutting machine has a useful working width of 350mm and is available in three body lengths; 1.7M, 2.2M and 3.0M with production speeds ranging from 0-100 meters per minute. Our rotary machine is suitable for kiss cutting and total cutting and can be used with flexible magnetic tooling or hardened rotary tooling and can also be designed to accept the customers existing tooling. The rigid electro-welded steel frame, modular stations with a variety of web-pass configurations, and computer controlled system make the RO 350 rotary die cutter versatile, fast & simple to operate; assuring rapid transition from job-to-job which decreases downtime, reduces labor and overall manufacturing costs.
Due to the modular design with every station moveable, the machine can be set-up to run a wide variety of jobs in a given shift, making the RO 350 the logical solution for numerous applications. Realizing the maintenance and set-up issues associated with complex servo driven rotary machines on the market, we engineered our machine with a single motor and in-line drive shaft coupled with precision worm gears for unbeatable performance and accuracy. In addition, all the transports and lamination stations are equipped with a single hand wheel screw for fast set-up (nip rolls are perfectly parallel with the web), eliminating the "walking" of the web, commonly associated with dual adjustable transports. A standard 4" color touchscreen stores up to 99 different recipes, and records production output based on parts cut or length of material converted.
The RO 350 high speed rotary converting platform can be set-up to laminate, add and remove the liners from both the top and bottom of the web, total cut and kiss cut (transversal & longitudinal regulation), slit, sheet and stack a wide range of materials.
The modular stations and available optional systems are listed below and can be arranged accordingly based on the application.
Main unwind with electronic brake controlled by an ultrasonic sensor
Automatic web tension control
Automatic web guide system with electronic control
One or two friction unwinds with lamination on the axes
Lamination group with silicone covered feed rolls & single - centered - adjustable hand wheel
Lower friction unwinds
Lower motorized rewinds
Motorized rewind with adjustable bar to remove the scrap
Die cutting station with transversal regulation
Die cutting station with longitudinal regulation
Reverse die cutting station to cut from below
Razor blade slitting unit
Scissor cut slitting unit (Blade & Counterblade)
Rotary pressure cut slitting unit
Vacuum system with aspiration to remove total cut pieces
Automatic stacking system
Trolley to store stations while not in use
For more details on our complete range of rotary converting systems, please visit www.kisscutting.com or contact us below.
North American Distributor
Manufacturers Supplies Company - (513) 677-3311 - information@mfgsup.com
Headquarters
Guidolin Girotto - cutting.systems@guidolin.com
---