PRS-12 Particle Reduction System
Product Announcement from Mar Cor Purification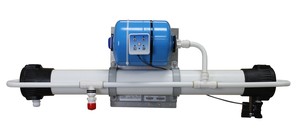 In a hospital, clinic, dental office or outpatient surgery environment, bacterial filtration is used to protect patients and equipment from exposure to water-borne bacteria such as E.coli or Pseudomonas. Unfortunately, in some applications, tap water particulate concentrations are high enough to prematurely foul filters, requiring the frequent replacement of expensive filters.
The PRS-12 will pre-treat the feed water to the device-reprocessing equipment or laboratory analytical equipment and prolong the life of bacterial filters.
The unique, 100kD molecular weight hollow fiber, ultrafiltration membrane is periodically cleaned by a built-in, programmable flushing system. The flush cycle helps provide long UF filter life resulting in very little loss in flow and differential pressure.
Standard Features & Benefits

•100,000 Dalton Molecular Weight Hollow Fiber Ultrafilter
•Built-in Programmable Auto-Flush System
•10 GPM Maximum Flow Rate
•System is Packaged and Ready to Install
•Includes Wall Mounting Bracket
•Clean/filtered Water Used for Auto Flushing
•Can be Mounted Vertically or HorizontallyMAR
---