AHU Metrics Makes Configuring AHUs fast and easy.
Featured Product from Marlo Heat Transfer Solutions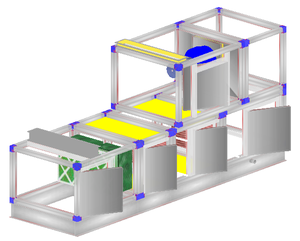 AHU Metrics Makes Configuring AHUs fast and easy.
Marlo Heat Transfer Solutions, a division of Leonardo DRS, recently introduced its new "AHU Metrics" Selection Software, which is now available on their website. This easy-to-use tool allows users to quickly and easily configure a customized MarloAIR™ air handling unit, while also offering instant proposal and submittal package generation, direct-to-factory order transmission, 3D Revit model creation (coming soon) and more.
Marlo's pre-engineered MarloAIR modular air handling unit is designed to let customers choose from a wide variety of modules that can be configured to a project's specific needs, from 8,000 to 56,000 CFM. It eliminates the need for high-priced custom AHUs, while offering customizable features not found in off-the-shelf units.
MarloAIR is also easier to ship and install than custom units. Its modular design allows for easy transport, as well as fast and easy assembly, all in a small, space-saving footprint. Each unit is backed by Marlo's 90 years of experience providing custom heat transfer solutions, plus their industry-leading 3-year warranty.
MarloAIR delivers a customizable AHU at a standard price. And with Marlo's new AHU Metrics software, it's easier than ever to configure MarloAIR to meet your exact needs.
Click here to learn more and to download the AHU Metrics software.
Watch>>>Welcome to Marlo Coil
Marlo Heat Transfer Solutions
Providing dependable coil solutions for over 90 years.
Since 1925, DRS Marlo Coil has manufactured quality heat transfer, refrigeration, and air handling equipment for industrial, commercial, utility, and marine markets. Our custom engineered Marlo heat transfer solutions are used in a variety of configurations to cool, heat, and dehumidify air streams for process and building comfort.