Get Your Coils When You Need them with QuickShip!
Featured Product from Marlo Heat Transfer Solutions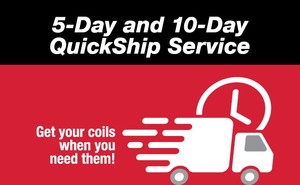 Get Your Coils When You Need them with QuickShip!
We understand that when heating coils fail in the middle of winter, when cooling coils fail during a summer heat wave, or when an industrial process is shut down by a coil failure, you need replacements fast!
That's why we offer two priority coil delivery services with our QuickShip program: 5-Day QuickShip and 10-Day QuickShip. As the names imply, the QuickShip program guarantees your coils will ship from our factory within 5 or 10 days of receiving your order.
5-Day QuickShip service is available on all of our standard steam coils (S, V, D, H) and water coils (W). 10-Day QuickShip includes all of those, as well as pitched core fluid coils (P), expansion coils (E) and condenser coils (C). While QuickShip is available on the vast majority of our coils, some restrictions/limitations do apply, including:
Coils must have copper tubes
5/8" tube coils limited to 44 tubes high
1" tube coils limited to 28 tubes high
All coils limited to 12 rows deep
Fins must be .007" to .016"
Additional restrictions may apply to 5-Day QuickShip service, such as coils with welded casings, copper ferrules, non-standard serpentines and/or specialty materials or connections.
To make sure the coil you need is available under our QuickShip program – including coils not mentioned above – check with your local Marlo representative/reseller. To find your rep, search using your zip code here.
Link: https://marlocoil.com/how-to-order/