MarloAIR™ Air Handling Unit reduces cost & time
Featured Product from Marlo Heat Transfer Solutions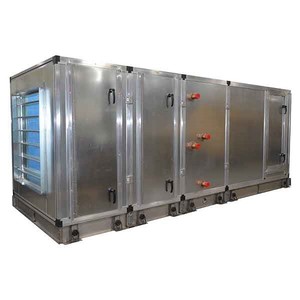 With the MarloAIR™ you no longer have to choose between high-priced custom AHUs with long lead times, and off-the-shelf units with limited features that don't meet all your needs. Now you can get the best of both worlds: a pre-engineered unit (which reduces both cost and delivery time) with a variety of modules that can be configured for your specific application, from 8,000 to 24,000 CFM
Built-In Advantages
We designed and built the MarloAIR wall system to provide excellent insulation value with minimal air leakage, including 2" foamed panels, integral thermal breaks and full-perimeter, double-sealed gaskets. Plus, every panel is constructed of galvanized steel for superior strength and durability, and is coated with PVC to resist bacteria and corrosion.

Modular Design
The pre-engineered MarloAIR can be customized to meet your specific needs without the high costs and long lead times of typical custom units. The modular design allows for easy transport to and through your building. Assembly is fast and easy. And its small footprint saves valuable floor space.

Proven Marlo Performance
The MarloAIR is built around Marlo's industry-leading coils and Stratomizer, giving you the reliable performance that comes with our 90-year track record of innovation, quality production and thermal management expertise. Our coils undergo extensive in-house testing and are AHRI certified.

Energy Efficient Design
Air leakage and thermal transfer are the largest contributors to AHU inefficiency and increased operating costs. That's why we added a number of extra features to maximize efficiency, including our airtight (SMACNA leak class 9 for positive pressure and class 1 for negative pressure) fully insulated wall and floor panel system, double-walled and gasketed access doors, and state-of-the-art, direct-drive, energy efficient fan and motor assemblies.