Direct Operating Gas Pressure Regulators (P133)
Product Announcement from Marsh Bellofram Group of Companies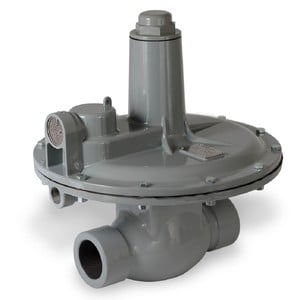 The BelGAS division of Marsh Bellofram Corporation (www.marshbellofram.com), a member of the Marsh Bellofram Group of Companies, has introduced the Type P133, a versatile direct operating pressure regulator, designed to offer high-performance gas monitoring and reduction capabilities within industrial and residential environments.
Offered with a wide range of pressure capabilities within a single regulator, from 2" of water column up to 10 psig, the compact Marsh Bellofram Type P133 reduces the effects of supply pressure changes on output pressure via a balanced diaphragm design for accurate control. With user selection of appropriate options, the regulator can be further utilized in either low- or high-pressure applications. Units are designed to reliably operate over a temperature range of -20° to +150°F (-29° to +66°C). In addition, the bubble-tight shut-off feature makes the Type P133 ideal for use with residential and light industrial heaters and industrial burners, as a reliable means of supplying gas to furnaces, burners, light industrial heaters and other appliances. No seat-to-seat adjustment is required.
For more information about the Type P133 direct operating gas pressure regulator or other pressure regulator products available from the BelGAS division of Marsh Bellofram, visit www.marshbellofram.com.
About the Marsh Bellofram BelGAS division:
With more than 40 years of proven market experience, the BelGAS division of Marsh Bellofram is a global leader in the design and manufacture of both high- and low-pressure, general purpose gas regulators, back pressure relief regulators, flow controllers, manifold systems, instrument air regulators, gauge thermometers, thermowells, needle valves and electronic products for oil, gas and petrochemical (pipeline); industrial plant air and gas regulation; and general industrial pressure and flow monitoring applications. All BelGAS products are renowned for their high quality, accuracy and dependability within critical applications.
---