Mueller Electric ESD Grounding Cables
Product Announcement from Marsh Bellofram Group of Companies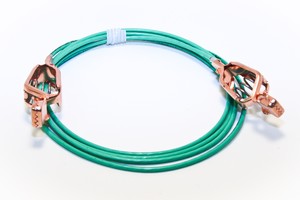 Mueller Electric Company, Inc. (www.muellerelectric.com), a global manufacturer and distributor of test leads, cable assemblies, clips, connectors, custom cable assemblies and accessories for the electronic component, factory automation, and test & measurement markets, has announced the offering of static and electrostatic discharge (ESD) grounding cables, designed to protect workers and associated equipment from the potential harmful efforts of static electricity and electrostatic discharge generated by sparks, or the movement and flow of flammable liquids. These cables are now available for online purchase directly from the Mueller Electric Company website, located at www.muellerelectric.com, or via the company's expanding global distribution network.
Mueller Electric static discharge grounding cables are available in multiple lengths, in insulated and non-insulated versions, with copper or stainless steel wire construction, and with five types of end connectors, available on all cable lengths and types. Customers may choose from terminal end options which include solid copper or steel clips; steel ground clamps; and solid copper lugs in a variety of sizes.
With more than 100 years of successful market innovation in cables, connectors and clamps, Mueller Electric Company has its industry origins as the inventor of the "Alligator Clip", a must-have for testing requirements. The company has since expanded its product portfolio, both organically and via acquisition (i.e., J.S. Popper, Crane Connectors) into additional types of electrical testing clips, test leads, test accessories, board-to-board connectors, and custom cable assemblies. All product technologies are sold either directly to qualifying manufacturers, or through some of the industry's leading authorized distributors, including Allied Electronics, Digi-Key Corporation, Electrosonic, McMaster, Newark, RS Electronics, RS Components and Selecta.
For more information about static discharge cable offerings or other product technologies available from Mueller Electric Company, visit www.muellerelectric.com.
Press Contact: Embassy Global, LLC www.embassyglobalpr.com
---