2D Bending and 3D Bending of Wire & Tubing
Service Detail from Marshall Manufacturing Company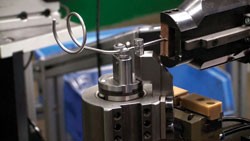 As minimally invasive surgical procedures grow in number and complexity, the demand for more sophisticated surgical instruments from medical manufacturers has grown even faster. New CNC (computer numerical controlled) 2D bending and 3D bending systems, implemented by Marshall Manufacturing, which incorporate innovative medical manufacturing processes, are designed specifically to meet this need.
The CNC bending processes offered by Marshall Manufacturing have many benefits:
improved quality products
faster prototypes
faster production run turnaround
lower costs
Utilizing Marshall's Swiss machining capabilities, desired wire component features such as cross-holes, machined contours, slots, flats and trocar tips can be machined into the medical devices prior to the bending process, assuring the integrity of both the machined features and the bending process. Precut cannulas, hollow needles and tubes that require special laser cut windows, slots, contoured edges and 4 axis cuts can also be processed through our CNC bending machine.
During the design stage of a particular wire or tubular medical device (e.g., trocar, cannula, needle or medical introducer), it is often difficult for surgeons or OEM's to determine the bending requirements. The desired touch, feel and other tactile features of the instrument are often difficult to imagine, and even more difficult to quantify. Devices often require certain machined features of the part to be oriented to the bend features. Marshall's 2D & 3D bending expertise coupled with our Swiss machining experience, gives us the ability to provide quick design iterations, critical to the customer getting what they want.
Prototyping and Production 2D Bending and 3D Bending Quantities with Reduced Setup Time, Faster Cycle Time
Marshall's 2D bending and 3D bending capabilities for forming tube range from .065 to .250 inches in diameter, and wire ranges from .065 to .200 inches in diameter. All aspects of our 2D bending and 3D bending cell are designed for maximum flexibility while keeping production costs low. The cell transfers pre-machined parts through the entire production cycle without operator involvement.
Located in Minneapolis, MN, Marshall Manufacturing works with medical customers in the area, as well as customers throughout the United States, Europe and Asia.
---