Custom Disc Springs & Belleville Washers
Featured Product from Maryland Precision Spring, an MW Industries Company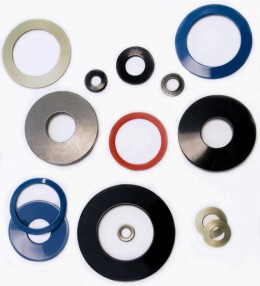 Maryland Precision Spring is a leading manufacturer of disc springs and Belleville washers. Disc springs and Belleville washers can be an ideal design solution where the load required is high and the space available is limited. They are commonly used in a variety of high temperature/extreme pressure conditions. Our disc springs can be customized to provide loading profiles that are not feasible with traditional coiled springs.
At Maryland Precision Spring, we offer complete design, engineering, and manufacturing support for customers requiring a custom product:
Manufacturing custom and catalog disc springs and Belleville washers for over 40 years
Full design and engineering support from concept to full production
Over 700 active custom parts in system
Military specification approval capabilities including special materials, various plating and treatments, and complete testing and inspection
Special packaging capabilities, including stacking
ISO 9001: 2008 certified; RoHS compliant available
All products manufactured in the USA
Materials/Capabilities
Wide material range available including: carbon steels, alloy steels, stainless steel alloys, tool steels, Inconel® and specialty metals
OD capability range from 1/4" to 40"
Stamping and machining capabilities
Metric and Imperial standards
Applications
Pipe flange
Heavy and light duty bolting
Bolted joint
Dynamic applications
Bearing preloaded washer applications
If your application requires an engineered solution due to special environmental conditions, tight space constraints, special load requirements, or service life expectations then let us help. Together we will optimize the performance of your system by providing insight into manufacturing methods that minimize your cost.