PulStar® Short Range Sensor Outputs 3V TTL
Featured Product from Massa Products Corporation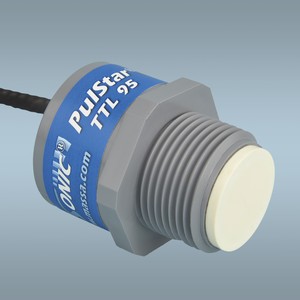 The sub-compact PulStar® TTL series is now available in four models for integration convenience. TTL models now exist in a 4 in.(100mm) – 7 ft. (2.1m) and 8" – 13 ft (4m) with 1.8V TTL or 3V TTL output options. PulStar TTL is an extremely compact housing design that delivers big time performance at low cost. MassaSonic® ultrasonic sensors, air and underwater transducers have proven themselves field reliable for 70 years. Whether your need is level control, distance measurement or routine object detection the PulStar TTL provides end users or integrators a form-fit-function-value capability that should be considered for general or hazard area monitoring projects.
PulStar TTL is IP68 rated and features internal temperature compensation for precise measurement over operating ranges of -40°C to 70°C. Ideal for distance/position monitoring, loop control, fuel tank level, lubrication circulation systems and remote data logger monitoring or battery based sensor systems where power consumption is a consideration. User friendly set-up and programing is part of the cost effective package along with diagnostic and monitoring outputs, protection from over voltage, short circuits and reverse polarity.
MassaSonic sensors are backed by superior transducer technology and materials of construction that make them rugged and reliable for all applications. Massa has application support engineers ready to assist with your system integration. Detect the Difference, come on over for a visit to www.massa.com to learn more about our innovative and cost efficient products including the PulStar TTL! Or reach us directly at sensors@massa.com | 781.749.4800 and mention E360.