SonAire Series M3 & M3is Sensors
Featured Product from Massa Products Corporation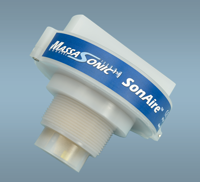 MassaSonic SonAire Series M3 and M3is Sensors consist of battery operated wireless level sensors that intercommunicate using ZigBee RF Modules. These sensors produce detection ranges from 4 inches (100 mm) to 35 feet (10.7 m).
Incorporating state-of-the-art ultrasonic technology, the sensors provide precision non-contact distance measurement for liquid level or industrial process control. The M3 stands out over all other systems because of their affordability, extraordinary ease of operation, and ability to be installed and calibrated without using a target. They transmit narrow beam sound pulses, process return echoes, and report the distance to the target. The sensor housing material is all Kynar (PVDF) to provide the ultimate in chemical resistance in the harshest industrial environments.
SonAire Sensors measure and store information such as range, temperature, battery voltage, and other sensor parameters at user-set time intervals. An internal pushbutton switch is used to commission the sensor onto the ZigBee network, and an LED identifies the operating mode. SonAire Sensors are RoHS compliant, and the package is rated for immersion and high pressure washing in accordance with IP67. The batteries are commonly available lithium AA type and are easily accessible for replacement. Typical battery life is 4 years.
All SonAire Series Sensors are available in two versions. Standard SonAire M3 Sensors are designed for operation in typical industrial applications. For use in hazardous environments, intrinsically safe SonAire M3is Sensors are also available. SonAire M3is Sensors are certified by Factory Mutual as meeting the requirements of Class 1 Div 1 (C1D1), All Groups, which is the highest rating.