Ultrasonic Transducers For Instrumentation & OEM
Featured Product from Massa Products Corporation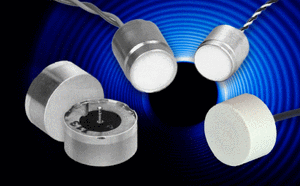 MassaSonic® ultrasonic transducers are recognized for high reliability performance in medical systems, instrumentation, security, animal deterrence and a variety of sensor systems be it level – distance – object detection. Field proven for 70 years, Massa Products is a technology leader for advanced air ultrasonic transducers and underwater transducers that are utilized in the world's most advanced sonar technologies. Common industrial use applications include thickness or rheology control, remote controllers, proximity / object detection and mechanical positioning. All can be accomplished with our standard air transducer designs operating at 23 kHz, 40 kHz, 150 kHz, 95 kHz, 220 kHz.
Massa also maintains a design library of hundreds of standardized designs available for customized manufacturing to OEM's including proprietary fan beam technology that enables customization of lobes to provide unique detection capability. Compare Massa transducers to other suppliers and confirm what Massa knows - It is the best-in-class.
In addition to ultrasonic transducers for air based use, Massa also has a range of standard sensor and transmitters available for purchase or OEM private label. If underwater communications technology or deep sea profiling requirements exist Massa can also supply for marine applications.
MassaSonic products are manufactured under fully ISO controlled quality processes, backed by superior technology and materials of construction that make them rugged and reliable for all applications. Massa has application support engineers ready to assist with your system design integration. Detect the Difference, come on over for a visit to https://www.massa.com/industrial/ultrasonic-transducers to learn more about our cost efficient transducer models or customization. Or reach us directly at sensors@massa.com | 781.749.4800